Wilson was always a social man. Though he was soft-spoken, he was friendly and able to talk to anyone he met. People liked him and were often drawn to him for advice and friendship. At the age of 75, Wilson wasn't as mobile as he once was, though. He had peripheral neuropathy that made walking painful and put him at risk for a fall. That left him stranded at home and missing the time he spent chatting with people in his community. It also kept him from going to events like car shows that required him to walk for long periods of time. He felt a little depressed and lonely. His adult children noticed he wasn't quite himself and wondered how they could help. A friend of the family suggested that Wilson might enjoy having a mobility scooter. The family pitched together and purchased one for him. Soon Wilson was zipping around the neighborhood talking to old friends and making new ones. He regained his good-natured personality and was much happier.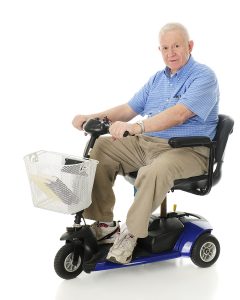 If you are a caregiver to an older adult whose story sounds a bit like Wilson's, you may wish to consider getting a mobility scooter for them. There are several benefits to owning a mobility scooter, such as the one described below.
Increased Independence
If your aging relative is currently relying on family caregivers for rides to stores and other places, a mobility scooter may allow them to get to some places on their own. Depending on where they live and what is nearby, they may be able to run to the grocery store to pick up items they run out of, like milk or coffee, instead of calling caregivers to pick them up. They can also visit friends who live close by or just get out of the house for some fresh air on a nice day.
Ability to "Walk" Further
Even if they use a cane or walker, many seniors aren't able to spend the day walking around at a mall, museum, the zoo, or community events. They may not have the strength or could tire out easily. A mobility scooter doesn't require the use of their legs, just their hands to steer and push the lever for acceleration. This can allow seniors to enjoy outings with caregivers that they might otherwise have to skip.
Mobility Scooters are Portable
One of the things family caregivers might wonder when considering a scooter is whether they are easily portable, so they can be transported by car. Mobility scooters come in many different models. Some of them are quite light and can be lifted by one or two people. Some of them are also easily disassembled and reassembled, so caregivers can pick them up and fit them into the car.
If you are considering home care services in Smith Mountain Lake, VA for an aging loved one, please talk to the caring staff at Acti-Kare of Blue Ridge. Call 540-443-6223. Our office provides senior care and home care services in the following locations including Blue Ridge, Lynchburg, Salem, Roanoke, Smith Mountain Lake, and Bedford in Virginia