Medicare Advantage Coverage for In Home Care Services
If you are one of the more than 20 million people enrolled in a Medicare Advantage plan, you may be eligible to have certain home care services paid for through your plan. On January 1, 2019 Medicare Advantage plans began offering non-skilled in-home care services as a supplemental benefit to enrolled plan participants. These changes now make it possible for individuals enrolled in a qualified Medicare Advantage plan to receive non-medical home care services such as housekeeping, meal preparation, or assistance with activities of daily living such as bathing, feeding and getting dressed.
What is Medicare Advantage?
Medicare Part A (Hospital Insurance) and Medicare Part B (Health Insurance) are government funded insurance plans available to qualified individuals aged 65 or older. Together, Part A and Part B are generally referred to as Original Medicare. Medicare Advantage Plans, known as Medicare Part C, are health care plans offered by private companies that contract with Medicare to provide both Part A and Part B benefits to enrolled participants. Medicare Advantage Plans include HMO (Health Maintenance Organization) Plans, PPO (Preferred Provider Organization) Plans, PFFS (Private Fees-For-Service) Plans, or SNPs (Special Needs Plans). Medicare Advantage is an increasingly popular option for eligible participants because it is a convenient bundled insurance plan which often includes benefits not covered through Original Medicare – including dental, vision, hearing, prescription services (Part D) and more.
Understanding how the new Medicare Advantage changes Connects to Home Care.
In the past, Medicare did not cover non-medial home care. Now, some plans will cover non-medical home care services. Many of the newly covered services may be provided by a professional caregiver, instead of a skilled nursing provider. This new benefit will help people live independently in their own homes for as long as possible. Certain Medicare Advantage plans will cover assistance with daily living activities such as bathing, grooming, toileting, etc. Respite care may also be covered. Family members that need a temporary break from their caregiver duties but would like their loved one to stay at home, can now hire a professional caregiver to care for their loved one while they take a break.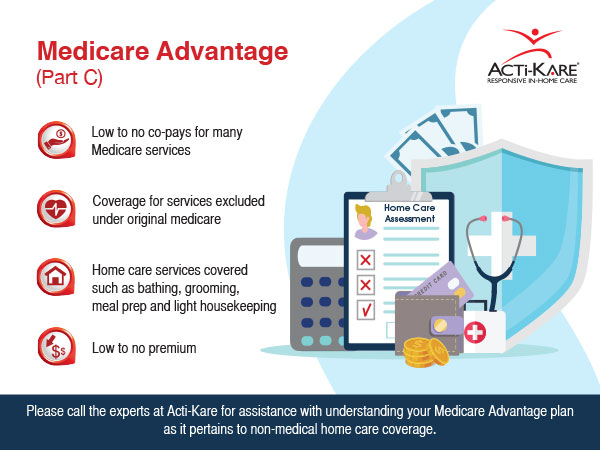 How Can I Find Out if My Care Services Will be Covered?
According to the Centers for Medicare and Medicaid Services (CMS), approximately 300 Medicare Advantage Plans added one or more of these non-skilled care benefits to their plan in 2019. With more insurance companies now familiar with the new guidelines, this number is expected to grow significantly in 2020. Acti-Kare Responsive In-Home Care is a proud partner of these insurers, and our knowledgeable care specialists are available to help you review your plan coverage to help determine which services are covered through your Medicare Advantage Plan. Simply contact our office at 888-451-5273 (KARE) for details and assistance.
Why Choose Acti-Kare?
Acti-Kare Responsive In-Home Care is the nation's premier provider of non-medical in-home care services. Our compassionate and highly qualified caregivers are available for everything from general companionship to personal care, respite care, and even around-the-clock care. For more than a decade, we have worked closely with national and regional insurers to help offer the highest quality of care to.